Cannon atop the rock
[More Pawnee Rock photos]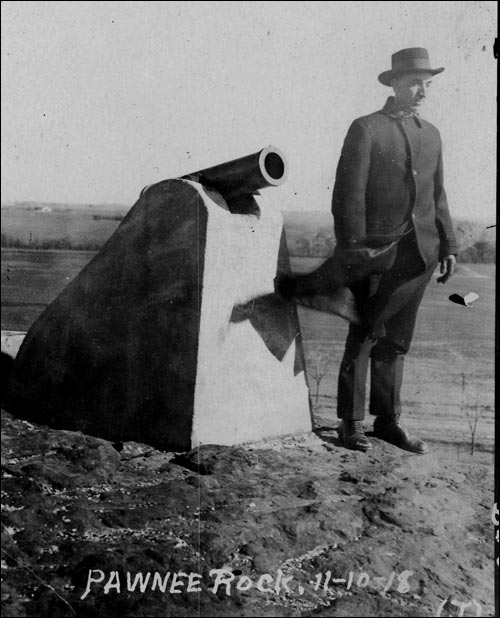 Facing the wind of history, a man stands next to one of the fake cannons installed on the southeast lip of Pawnee Rock in a postcard photo dated November 10, 1918. This photo came from Elgie Unruh's collection.
• • •
Let's see your photos: Would you like to display your historical photos of Pawnee Rock and its people? Size them to about 600 pixels wide and e-mail them to leon@pawneerock.org. Tell us who and what are in the photo, when it was taken and so forth. Don't be shy -- it's OK to send photos of your relatives! They'll appear on our home page and then in the Pawnee Rock gallery.
Too Long in the Wind
February 10: Location for Mull/Harter memorial is changed.
February 7: Memorial Tuesday for Mulls and Harters.
February 3: Rock dedication, 1912.
January 28: Gary Cooper has died.
January 26: Dog of the Afterworld reviewed.


Dog of the Afterworld

Read Leon Unruh's novel about what happens when a Russian assassin comes to a town much like Pawnee Rock. Buy a paperback copy at Town Crier in Emporia, the Raven in Lawrence, Watermark Books in Wichita, Gulliver's Books in Fairbanks, the Book Shelf in Eagle River, or at Quincy Press. Also, a Kindle version is available.

---
---
---
Weather: Click on the box for the forecast.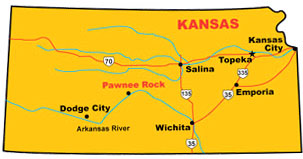 Welcome to PawneeRock.org,
all about the town of Pawnee Rock, Kansas.
Search our site